When you are first starting your blog, you will come across many blogging tools.
Blogging tools will help you to improve your blog content.
You will probably have the following questions when thinking about which blogging tools to get.
Firstly, which blogging tools should I totally get?
Secondly, which blog tools should get later in my journey?
Thirdly, which are the tools that I should never miss out?
I know it seems confusing but stick with me here.
Because, I don' t want you to find yourself so totally overwhelmed.
When you are starting your blog, you will need to work within your budget.
Let' s be honest, many new bloggers are starting out because they are looking for a side income, a side hustle to bring in a few more dollars or pounds.
Probably, and I am guessing here, but you might just be on a tight budget?
You are wondering do I have to go paid or will free tools do for what I need?
It can be a struggle, trying to decide which blogging tools you need right now.
And which blog tools can wait for later.
I' m sure there are tools for your blog that you would love to get, but know that you can' t really afford. But you are still not sure if you can really do without them.
Trust me, you' re in the right place, because I am going to share with you some blogging tools.
Many of which will be free. All of which I have found extremely useful.
I know the value of these blogging tools, because when I look back to when I first got started blogging, I made way too many mistakes and had to learn the hard way.
But that won' t be you, because you are doing your research.
What are the best free blogging tools?
When you are new to blogging, it can be so confusing choosing the right blog tools you will need.
Especially when you look around and hear the noise around you and the flow of traffic from established bloggers. This can seem intimidating.
They seem to have it all figured out.
They even make it look so easy.
They seem to bake up blog posts like they have a book full of recipes waiting around for them.
They seem to produce content that their readers can' t wait to devour.
When you are at the beginning of your blogging journey, trying to get there can seem so hard. It feels like you are spinning your wheels.
I know that the one thing I kept saying over and over when I felt this way, was:-
"Everyone Has To Start Somewhere "
Start with where you are at.
Also, trust yourself and know that if you remain consistent and write blog posts your readers will love, then you will get there in the end like the tried and tested Thomas the Tank Engine, I think I can, I think I can (does anyone still read that one anymore?)
I may be jumping ahead, but if you have not even started your blog yet, then get my handy step-by step guide.
This post may contain affiliate links, which means I' ll receive a commission if you purchase through my links, at no extra cost to you. Please read full disclosure for more information*
9 Essential Blogger Tools to Get Started With
Keywords Everywhere
Google Auto-Complete
Title Generator — Tweak your biz
Pixabay vs Canva
Image compressor — Tinypng.com
Quora
Answer the Public
Email Marketing – Aweber
Theme for you blog — Divi
Blogging tools when you are starting out
Keywords Everywhere
Keywords Everywhere is a keyword planner and research analysis tool from Google. (I mean what' s there not to love about that!!)
Not only is google the top search engine, but they are also offering you a way to find out what your competition is doing.
Keywords Everywhere has a free and paid offering.
If you need help in analysing a keyword that you are planning to target, then you will want to try Keywords Anywhere.
You will be able to look at content on other blogs in your niche to see what keywords they are using.
This will give you many useful ideas about Long Tailed Keywords that you can try to use in your blog post.
When you are writing that the first blog post, long tailed keywords will be the ones you should try to target.
This handy Keyword research tool will help you break down your keyword research when planning your blog content. It is a blogging tool I use all the time.
There are other keyword tools out there, so you could easily to become confused when trying to decide which ones to use.
For example, KW Finder is another popular keyword research tool, but it is not free.  I think KW Finder is one for your toolkit when you are more advanced in your blogging journey.
What tools do I really need on my blog journey?
The first part of coming up with blog content is research and planning. Where better to start than at google itself.
Many forget about Google Auto Complete. I know sometimes the simple and best things in life get forgotten about.
With Google Auto Complete, when you type a word or phrase into google search, it will autofill suggestions for you.
This will show you what others have searched for before.
This tool is great in helping you to plan your content. It will show you keyworded content that people are searching for.
If you have an idea for a topic but are not sure how to plan it out, then use this tool. It will help you to gain ideas and build out your blog content in a way that is will super charge your blog content.
Let me show you.
When I was deciding on this blog post I typed in
Search terms like "best blogging tools " "Blogging tools " and "Blogging tools for beginners ".
As you can see google suggests topics that I may be interested in a handy dropdown list.
When I click on "best blogging tools for beginners "
There were several ads but the first organic post features in the snippets.
I would open up each of the top ten blogs in the organic search.
I would read what the posts are saying.
I would have a look at the tools they are recommending there and do my own research of them.
To clarify, find long tailed keywords and then go write your blog post.
After doing your research, you will need to come up with catchy titles that will grab your reader without seeming too pushy.
Title Generator — Tweak your biz
I know the name of this site did almost put me off and it sounds quite cheesy.
But hang on in there, this headline title generator is a real find.
Just type in your keywords and let it do it' s tweaking magic.
Tweak you biz will provide you with a list of blog post title ideas to choose from.
Now, you may have to do a little bit of work as not all the titles will make sense. In fact, some of them will be downright silly.
Here' s what I got when I typed in the keywords for this blog.
Here' s a list of titles it generated
Not bad right, to get you started.
Like I said you will have to tweak just like the title of the tool, till you find a title that that grabs your attention and has your keywords.
A title generator is also a great way to come up with content ideas.
Get started by simply typing in different keywords, to give you inspiration. Once you get started you will find yourself, creating content you love to write and that your readers will come back for more.
Great job so far. We' ve found ways to start researching your blog post topic with google auto complete, check keywords with Keywords Everywhere how to come up with great titles using Tweak Your Biz.
Let' s get onto the next blogging tools that you can use, when on a budget
When you are looking for images that will fit your blog post, but are also free, then you will want to try Pixabay.
Pixabay images don' t have copyright restrictions. This means that you will be able to use images on your blog posts, workbooks or printables.
Pixabay has a huge selection of images to choose from and it was my go-to place for images when I first started blogging.
Many people also forget that Pixabay also has a great range of videos that you can use as well. Adding videos to your blog content will keep your readers on your site for longer and will help your blog SEO.
Whilst, Pixabay is free I think it is good to give credit where it is due.
If I use a Pixabay image, then I will give accreditation at the bottom of the post with the name of the content creator with a link back to pixabay.
I am using Canva more in blog post' s now, but if you are getting started then you will want to try Pixabay.
Like I said, I have switched to Canva Pro which is a paid for service. I love it so much that I pay for the professional plan because I love the extra features that this gives me.
This allows me to create fantastic graphics like pinterest pins and has a huge choice of images.
I think that Canva Pro is worth the investment when you are mid-way in your blogging journey. It' s not one that you need right at the start.
But I am going to let you in on a secret and Canva also has a free offering.
As a free member, you can get access to Canva' s templates. Not to mention tons of free stock photos that you can use. Canva is the first place I go when creating visuals for my content.
They also have loads of templates for any marketing strategy, when using Facebook, Instagram or Pinterest. This is great, especially, if designing is not your strong point.
When creating visuals for your blog content, you need good quality images and Pixabay is still a great place to start with
As you become more confident then add Canva Free to your tools.
And when you are looking to add that bit more zest to your blog, then Canva Pro is the way to go.
Image compressor — Tinypng.com
Honestly, this is simply one of those tools I wouldn' t be without.
The size of your images will make a huge difference to the load time of your blog.
I made this huge mistake when first starting out and would upload images on my blog without checking on the size of them first.
It has been a lot of work going back and compressing images on my site.
If I was starting out, I would run every image through tiny.png before uploading these to your media library.
Tiny.png is simple. It is easy to use, as you just drop the png file into the outlined empty space where it says "drop your png or jpg. here!! " and let it do it' s work.
The tool will show you the size of your image before and after. You will soon realise what a difference this will make to you page and blog speed times.
If you are wondering what real people in your niche are talking about then you will want to check out Quora.
Quora is a forum that allows people to ask and answer questions.
It is a great source for researching your niche. See what people are asking, and the answers they are getting, then you can quickly turn these into blog posts.
Quora is what I would call gems when it comes to content creation.
The work has already been done for you.
All you have to do is tidy it up a bit, give it your own voice and you will instantly have your own unique piece of content for your blog.  
Another great resource, which is similar to Quora but slightly different in the way it presents content to you is
Answer the public one of those lesser-known gold mines.
It will enable to you to create mind maps around a word or phrase.
Simply type in a keyword in your niche.
Answer the public will break down the results in a streamlined way.
It will allow you to see several gold mining streams that you can take when creating content.
This tool will help you to keep focused on your blog topic.
It will help you to narrow down on a particular niche thread that you want to talk about.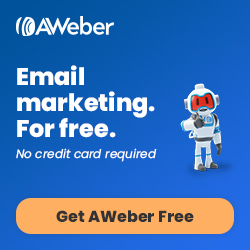 I started out on Aweber and have stuck with this email capture tool throughout.
When I started, Aweber did not have a free offering like it has now.
An indicator of a good tools is one that has responded to the competition.
Aweber seems to have done this, in response to the likes of other email marketing tools like Convertkit and Mailchimp.
I cannot personally comment on Convertkit, as I have not used it myself, but I have heard that it is easy to use. It also has a free plan.
Mailchimp is one that has been around for a while and has a free offering. To be honest on the few occasions I tried to set up a Mailchimp account, I found it quite clunky and confusing.  
I remain with Aweber for the moment and you should try their free offering for the first 500 subscribers is the way to go when starting out.
Theme for you blog — Divi
I have been using Divi now for the past 5 years and have never looked back.
It is my essential place to set up new blogs. Divi' s offerings just keep getting better and better. Divi is versatile and allows you to make front end changes so easily.
They make improvements all the time and I think this tool is going to be around for years to come.
Divi is an investment and probably not needed at the start of your blogging journey. But it is one that I would recommend you add to your tools once more established.
That is it, we have reviewed some tools for new bloggers to get started with when they are on a budget, but still want to have the right tools.
9 Blogging Tools when on budget to Get Started With
Keywords Everywhere
Google Auto-Complete
Title Generator — Tweak your biz
Pixabay vs Canva
Image compressor — Tinypng.com
Quora
Answer the Public
Email Marketing – Aweber
Theme for you blog — Divi
I' d love to know if you' ve tried any of these and if there are any other blogging tools that you use and want to share.